Château la Forêt
CONTACT AND HOW TO FIND US
Welcome to Château la Forêt campsite! Ideally located in the Vendée, our 4-star campsite welcomes you for a holiday marked by a warm and friendly atmosphere. Nestled in the beautiful village of Saint-Julien-des-Landes, our camping village is accessible by car and public transportation. Do you have a question about your stay? Contact us! Our team will answer any questions you may have.
.
CONTACT
CAMPING CHÂTEAU LA FORÊT
La Lucillière
Route de Saint-Mars
85150 SAINT-JULIEN-DES-LANDES
FRANCE
Phone : +33 (0)4 88 81 15 60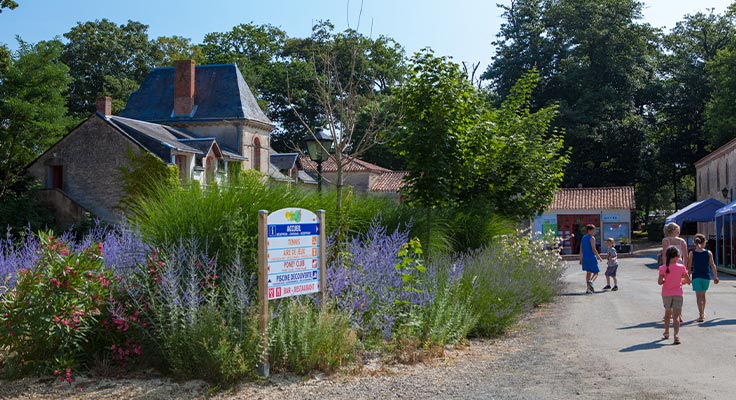 GETTING HERE AND ITINERARY
🛰️ GPS coordinates:
Latitude: N 46° 38′ 38"
Longitude: W 1° 42′ 39"
🚗 By car:
Take the A87 motorway and continue on the D160. Take the D12 exit towards Saint Georges de Pointindoux / Sainte Flaive des Loups / La Mothe Achard-Centre / Brétignolles sur Mer. Take the D760 and then the D12 towards Saint-Julien-des-Landes. Turn right onto Rue de la Forêt. Take the next left. The Château de la Forêt campsite is on the left.
🚇 By train:
The nearest train station is La Mothe-Achard. It is located 7 km from the Château la Forêt campsite.
🚇 By plane:
The nearest airport is Nantes Atlantique. It's 95 km from our campsite. From the airport, take the TER train to Les Sables-d'Olonne. Get off at La Mothe-Achard station. Rates and information on the SNCF connect website.
DISCOVER THE AREA SURROUNDING THE CHÂTEAU LA FORÊT CAMPSITE...